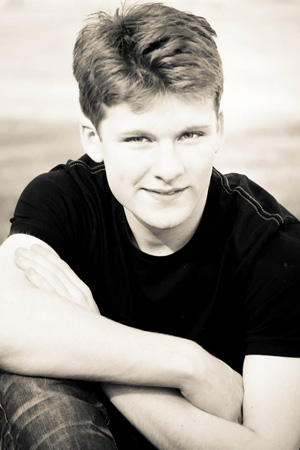 Hunter Gifford
, age 20, started composing and playing the piano at age 11. After receiving a handful of lessons, his mother gave him a Jon Schmidt CD, thinking he'd like Jon's music. A day or two later, he asked his mom to come to his room to show her something. He sat down at his keyboard and started playing Jon Schmidt's "Waterfall". In shock, she asked him how he learned it. He simply replied, "I listened to it over and over again and just figured it out." He hasn't stopped playing since.
Two of his compositions won several awards, both including 2nd place in State in Utah's
Inspirations Art Contest
two years in a row. In Summer 2012 he won an award for the accompaniment he wrote and performed with singer/songwriter, Rosie Lopez. Their song was awarded third place in the Vocal Sport Singing Competition at the Covey Center for the Arts. He was also the 2010 winner of Jon Schmidt's "Road Trip" YouTube contest where Schmidt himself commented on his performance of Road Trip as "Wow...SO impressive." While listening to Hunter play in his studio, singer/song-writer, John Houston, said of Hunter, "You can tell he plays from the inside out."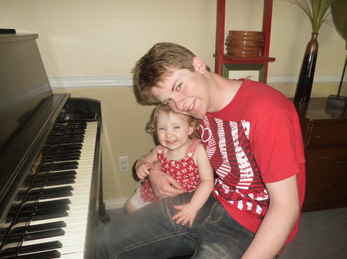 In 2010, while Hunter was playing at the Utah County Fair, he was heard by Stacy Martineau of Pleasant Grove's Arts Commission. Impressed with what she heard, she asked him to come and play at the Heritage Festival in Pleasant Grove. She commented, "He's amazing. I'm so glad I was walking by and heard him. He's just what we need." This seems to have been the trend. In the spring of 2010 Hunter was playing at the Covey Center for the Arts for Reagan Academy's Student Art Show, and was heard by Naomi White of the Utah County Art Board. Afterward, she asked him to play for Provo's Freedom Festival Art Show Awards Night.
Hunter gave his first concert to an overflow crowd at the Springville Museum of Art's Sunday Concert Series 2010. In 2012 he was asked to play at the Utah County Fair for the third time, and at Springville's Annual Art Ball, a fundraiser for the Springville Museum of Art. He also played at the Utah State Fair in September 2012. In January of 2013 the Springville Arts Commission had Hunter come back to perform his second concert at the Springville Museum of Art.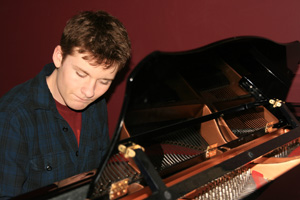 Hunter loves to share his music. He has participated as a song-writer/performer in several
Art City Music Festivals
. Also, his heartfelt performances at five Art City Talent Festivals have thrilled the audiences. His 2011 performance of his song,
"Freedoms' Run
," was dedicated to his grandfather who passed away the previous week. Audience response demanded an encore, which he gladly performed. There was an article in The Daily Herald featuring Hunter about this on June 8, 2011. You can read the article
HERE
After playing an impromptu concert at The Piano Gallery in St. George and then at Hurricane's 4th of July celebration in 2011, several people offered to help Hunter monetarily to record his music. His first CD, called "
Doorways
," includes songs he wrote for his grandfather and his cousin who passed away at two years old, one of his award-winning compositions, "Team 56," written for a television series he's creating, and a few others.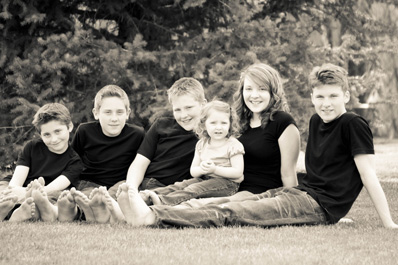 Hunter is the oldest of seven and grew up in Springville, Utah and Cedartown, Georgia. He enjoys creating 3D CG animation and artwork, performing Irish hard shoe dance, drawing, writing, Chinese, listening to music, and watching movies.
To schedule Hunter to play at your event, drop us a line on our CONTACT US page